Mid North Songwriters Network (formerly Western Fringe Songwriters' Network) is for all songwriters ...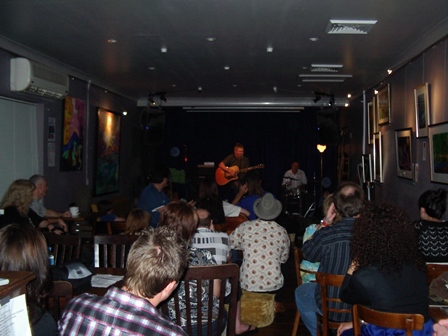 Hi all Songwriters,
Mid North Songwriters network is based on the mid north coast of New South Wales.
Contact stewart@soundshed.com.au for more info
Desley Taylor is a Western Fringe songwriter.
Desley recorded this song "It'll Be Alright" as part of our free Song Development Day program.



---
What is Mid North Songwriters (MNS)?
The Mid North Songwriters Network is not a club, it's not an organisation, it's not a group, it's an opportunity - an opportunity for Songwriters to develop their original songs, meet other songwriters, perform their songs and record them. Mid North Songwriters is affiliated with Soundshed Music Recording Studio
What does MNS do?
MNS provides an encouraging, relaxed and supportive atmosphere for songwriters to create their unique music; to 'sing their song'

You can access songwriters' resources, meet other songwriters, workshop your songs, (even 'works-in-progress' are highly encouraged) and access information on anything to do with Songwriting
What does it cost?
MNS is free
Who can be involved?
Absolutely anyone who wants to write songs. From beginners to full-time professionals. We have had 15 years olds to 70 year olds.
What is the Song Development Day?

This program is a one day totally free program where selected participants will be offered one-on-one song editing and work-shopping and a fully professional recording of their song.
The SONG DEVELOPMENT DAY (SDD) was a major part of Western Fringe Songwriters' Network and is now connected with Mid North Songwriters network.
It is run by Stewart Peters who is a multi-award winning songwriter and producer. He has worked with many successful songwriters and various record companies, both large and small, over the past 25 years. Go to the ABOUT US page or CLICK HERE to check out more details about Stewart and Soundshed Music's Studio

Great! So the SDD means you get a free demo recorded!

Well, not quite :) The main aim of the SDD is to edit and workshop your song until it is as good as we can make it; so your song communicates the 'truth' that you intended to relate to your audience. And yes, on the same day, when your song is ready we will record a fully professional demo version of your song - totally for free
Your songs are your babies - you don't like people tampering with your songs ...

Then maybe the SONG DEVELOPMENT DAY is not for you. In my experience I have never heard a developing songwriter's song that didn't need some kind of editing.
Editing makes all the difference between a good song and a great song!
So the SDD is all about working on your song to make it the best we can
Will you have to share copyright of your song with Stewart?

No. You will keep the full 100% ownership of your song's copyright. Not matter what changes I make to your song, I won't claim any copyright. I just want you to get the best out of your songwriting
So, what do you get on the Song Development Day ?

You'll get guidance from Stewart on song lyrics, continuity, melody, chordal and song structure - and a professional demo recording of your song (including guitars, bass guitar, drums, piano, keyboards and percussion and any vocals). We are also glad to give guidance and advice on marketing and promotion of your music - all totally free
How can you get selected for the Song Development Day?
Send a copy of one or more of your songs to Soundshed Music for consideration
(mp3, CD or even cassette!) - stewart@soundshed.com.au
The quality doesn't have to be great, it's just to let us hear where you're up to with your songwriting. Preference will be given to writers who haven't had any of their songs released or completed any CD's of their songs or who are not signed to a publisher or recording label

If you don't have a recording of your songs to send us, that's fine. If you're performing at any open mics on the mid north coast we will gladly come and have a listen to you
Email us:
Stewart at stewart@soundshed.com.au
To check out Soundshed Music's facilities CLICK HERE
***
Mid North Songwriters was previously called Western Fringe Songwriters' Network and was based in Sydney and The Bue Mountains. Here are some previous Events and Compilation CD's that were produced as part of Western Fringe Songwriters network. We will be continuing these activities with Mid North Songwriters.
Western Fringe Songwriters' Compilation CD 2014

AMRAP distributed our 2014 Compilation CD to 80 Radio Stations around Australia

The 'Wild Women' Compilation CD
was released in 2013 and various tracks have been receiving airplay on Radio around Australia
CD Launch in Glebe on 9th February was a big success and we facilitated several smaller performances involving some of the 'Wild Women' throughout 2013
Where is Mid North Songwriters Network (MNS) based?

In the mid north coast of New South Wales

Recording Opportunities?
We have produced Compilation Albums free for Western Fringe in our Sounshed Recording studio and we will be continuing these activities with Mid North Songwriters too.

Check out Soundshed Studios on the Soundshed Music Song Productions Home Page - half way down that web page you'll see info (and some pics) about the Studio
What other resources can Mid North Songwriters offer?
Through our years of working in the Music Industry at all levels, we can offer access to music professionals for advice and assessment. From publishers, to producers, studios, management, record labels, graphic design and tutors
Is it all for free? What's the catch?
All the Mid North Songwriters services are free.
No catch - songwriting is our life's passion. For us it's just a matter of us getting a big buzz from 'giving-back' to developing songwriters and seeing their progress
For more info and more info on
Mid North Songwriters
Email: Stewart Peters - stewart@soundshed.com.au
Also, if you like, CLICK HERE to check out our recording facility (Soundshed Music), where we produce the recordings for Mid North Songwriters