The Soundshed Music Recording Facility
"... Soundshed Music Studio is a very relaxed, friendly and highly professional atmosphere ... "
Soundshed is based on the NSW mid north coast.
Our rooms consist of an integrated recording and control room, and a similar sized recording rooms approx. 70 sq metres in total.
We specialize in producing broadcast quality tracks for solo singer songwriters and bands , utilising Stewart's ability as a singer and musician to give a unique sound to your song. Stewart's experience as a successful songwriter is also handy when it comes to song structure and production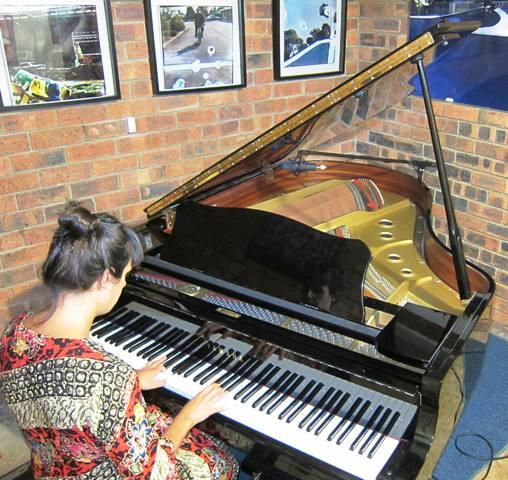 Soundshed Music's Equipment List
Soundshed runs the latest Nuendo recording software. Nuendo is the same software used by many high-end producers and movie studios. Many world class audio professionals have considered it as the best sounding Digital Audio System and one of the world's most powerful digital audio production workstations
We record using the high-end, crystal clean Antelope preamps and converters, Chandler LTD (Neve 1073 copy) pre amp and the warm sounding, boutique TL Audio TubeTracker M1 'Tube' console with vintage tube circuitry and one of the most respected sounding eq's in the industry
Microphones
Townsend L22 Modelled mic, Neumann U87, U89, Rhode NTK1, AKG 414 Classic, AKG 451, AKG D112, Shure SM7, MD 421, Beyer M160 Ribbon various other Rhode, Shure and Electrovoice
Instruments

Guitars and Stringed: Martin & Ovation acoustic guitars, Yamaha & Kato classical acoustics, Fender Precision Lite Bass guitar, Upright Double Bass, Fender Stratocasters, Gretsch semi acoustic, Gibson Les Paul Custom, Dobro, Mandolin, Ukulele, U Bass, lap slide guitar
Other Instruments: Yamaha C3 Grand Piano, Gretsch Drum kit, Roland TD3 electronic drum kit, Congas, Bongos and various percussion instruments and even melodica, tin whistles and flute!
VST Instruments:
Native Instruments Akoustik Piano and B4 (Hammond organ), Lounge Lizard (Wurlitzer and Rhodes electric pianos), Pro 53 (Prophet 5) synthesiser, Superior Drummer Drum kit, BFD 2 acoustic drums (stunning sound), Amplitube guitar amp simulator, Trilogy Acoustic/ electric & double Bass, Atmosphere synthesizer, Stylus RMX groove module, EWS Symphonic Orchestra (arguably the best sampled orchestral sounds available), harmonium, Redtron Mellotron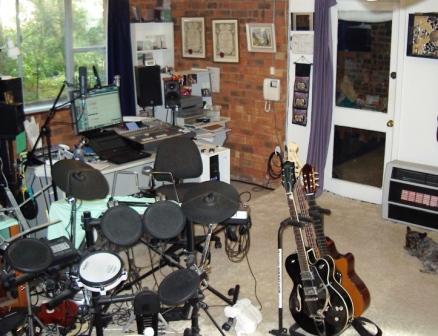 Above: Soundshed Music's Main Control Room -
Relaxed and friendly, with first-class professional recording equipment
Plug ins: include Waves, UAD2 (including UAD 1176, EL Fatso, Neve 88RS, Sound Toys Suite incl. Decapitator & Echo Boy, Fairchild, EMT Plate, Pultec etc), Fab Filter Pro EQ, Pro Compressor, De esser, Slate Digital Virtual Tape Machine, Ozone 7, PSP vintage warmer and many others.
For vocalists we are highly experienced with Auto tune and Melodyne … these vocal utilities are absolutely essential these days, when used discretely. There are virtually no professional singers who don't use some kind of vocal tuning/ tweaking software – even the ones who don't admit it :)
Contact
Email: stewart@soundshed.com.au
Ph: (02) 6569 5885
Txt: 'songs' to 0419 663 135