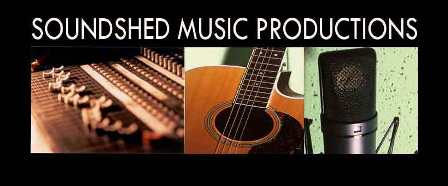 Soundshed Music specialises in Producing songs 'Remotely'
for Songwriters via the Internet and Phone
Have your songs professionally produced ONLINE for $990 per song (AUD)
If you are out-of-town, interstate, overseas or just too busy to come in to Soundshed's Studio, we can work closely with you via the Internet and phone to produce your finished song. There is no need for you to be in the studio to get a professional recording
These rates include Producer/ Engineer, Assistant Engineer, Session Musicians and Mixing and Basic Mastering.
Here are some Case Examples of ONLINE Song Productions we have done
These are just three examples of the many songwriters we have helped. Their songs went from a rough idea to a fully finished production, ready to present to publishers, film makers, Song Competitions, TV or radio broadcast, ready for film clips or as a commercial CD or Online release
Carmelita is not a musician. She had lyrics on paper and a melody in her head. We took her lyrics and melody and transformed it into a full album of broadcast-quality, fully mastered songs. Carmelita gave us a list of commercially released CD's that she felt would suit her style of songs. We worked step by step, instrument by instrument, track by track with Carmelita via mp3's over the internet until she was totally happy with each track.
Have a listen ...
Carmelita's comments - "... Soundshed's on-line production facility is the answer to my prayers! I'm a songwriter who cannot play an instrument; with no easy access to musicians. With Stewart Peter's amazing talents in song writing and Production skills, I literally record my idea - which is basically just lyrics and a vocal melody - send it to Soundshed, where it is transformed into a professionally arranged, amazing song I can be proud of. I am a constant client of Soundshed Productions, all without leaving my home! I can only thank Stewart for turning my dreams into reality and making the whole process fun. Good people - great music!"
---
Bob is a muso, but lives out of town. We took his rough vocal and guitar track recorded to a cassette and made up a rough scratch track for him to approve. And transformed it into an Award Winning song. This song went on to win the Australian Songwriters Association Contest OPEN section.
Here's Bob's song ...
Bob's comments - " ... for me to be able to put my original song, as a rough demo. on tape or online and be confident enough to send it to Stewart at Soundshed Music and know my 'baby' is in confident, capable and professional hands it's a writer's dream. Stewart consulted with me through every step of the production process. The finished product is superb quality and much more than I expected. I am inspired to write more!"
---
Eric is a great songwriter but not a fully confident musician. This is just one of Eric's songs that we gave the 'Soundshed treatment' to. Eric supplied us with rough demos of his songs made at his home. Working with Eric's list of preferred commercially released CD's, we discussed with Eric what he expected for each song then worked step by step with Eric as we added parts and made the changes he needed . Eric is now signed as a songwriter to Blue Pie Records.
Have a listen ...
Eric's comments - "... working on my demo songs with Stewart was a great experience. I was able to bring my rough CD sample to him and we worked through the song bit by bit until I was satisfied with the result I was looking for. A Very professional, no rush service".
We have a simple and proven process:
1. You send us your guide vocal or rough demo if you have one.

2. We will contact you and discuss our ideas. Then we will put together an mp3 rough scratch-track for you to approve before we proceed with any further recording

3. We will then add other instruments and vocals and supply you with an mp3 for your approval

4. You can review each version as we record it. We allow for one FREE change per version. Further changes are only $30 each. Some small changes are no extra charge

5. We will provide you with a fully mixed, mastered version of your song ready for broadcast, or submission for Film, TV, radio airplay
6. If needed, you can also come to Soundshed's Studio to record your lead vocals or (for an extra charge) we can even come to you to record your vocals with our studio equipment (for an extra charge). If you wish to add your own vocals at your home, we can assist you with advice and suggestions how to get the most professional sound from your equipment
You will have a mastered song, ready for you to submit for Film, TV or Radio Airplay or ready for Manufacture as a commercial CD
We can even add our lead vocals if you're not a singer
We can deliver any musical style you need: rock, pop, modern r'n'B, country, heavy metal
Our Rate is $990 per song (AUD)
This package includes phone or email contact
You will get to approve each part as it is added. You will have a very clear idea of what each part will sound like before we proceed.
We allow for one FREE change per part. Extra changes are only $30 (AUD) each
No extra 'hidden' costs. For $990 (AUD) per track, you will receive a fully produced, mixed master of your song, ready for broadcast. If you do require further specialist musicians (i.e. blues harp, sax, horns, specialist singers etc) we have a team of highly experienced session musicians at very reasonable rates, but in almost all cases, there won't be any need for you to pay for extra musicians
What can Soundshed add to my songs?
Songs are about emotion - if your song doesn't convey emotions, then it's meaningless
1. We will help you fine tune your song structure at no extra charge
2. We know all the tricks to inspire you to get the best recorded performances out of yourself
3. We will enhance the instrumentation only where it is really needed to lift your song to its full potential
4. And most importantly, we won't let anything get in the way of Your Song
Stewart has had many years experience writing, producing and recording with many artists and for various large and independent record companies

We understand the challenges songwriters face in getting their songs from their heads, or from live performance, into a unique and professional recording. Nothing is more important to us than capturing the emotion of your song in your recording

Email Us let us know the musical style you are interested in and I can send you some more samples.
Contact

Email: stewart@soundshed.com.au
Ph: (02) 6569 5885
Txt: 'songs' to 0419 663 135